RUG#: SIL3048
SIZE: 6X7
SHAPE: Rectangular
COLOR: Ivory
DESIGN: Prayer
ORIGIN: Iran | Nain Rug
STYLE: Nain
ACTUAL SIZE: "5'7"" X 7'5"""
CONDITION: Excellent
AGE: Brand New
PILE: Kurk Wool/Silk Highlights
FOUNDATION: Silk
KPSI: 6LAH
RETAIL PRICE: $
OUR PRICE: $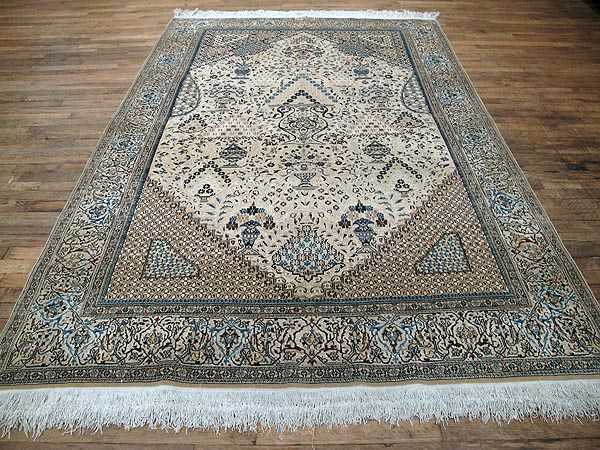 "The archetypal Nain rug achieved international popularity during the mid-20th century. This relatively new carpet weaving center has produced some of the greatest weavers in the past century. Woven in a soft neutral color palette and complemented by accents in subdued blues, the Nain carpet is uniquely suited to Western interiors. The distinguished Nain carpet is made with the finest wool pile while silk highlights add to the dimensional quality of each lavish design. A traditional Nain rug can be rectangular or round and feature complex all over patterns, formal medallions or radiant rosettes based on the iconic domes of Iran's ornate mosques. Some of the finest Persian Nain Rugs are Habibian Nain, 6Lah Nain, and 4Lah Nain. ORD#11809
Nain Rugs
The rugs produced in the region of Nain are also very popular. They feature a specific design with an ivory or blue background. The central medallion colors matches the background but also the motifs used inside the rug. Older rugs from this region are very difficult to find but the quality is exceptional, as has always been in this region.